Results of The 60s Official Site Visitors Poll:
60s Top Ten Countdown
On May 24, 2009 our visitors poll for nominating their favorite song of the 60s was completed and the results are in. The participation was far beyond my expectations and the email I received for the favorites of the 60s not listed on the ballot was tremendous and kept me busy most of the day. I truly want to thank all of you for your participation.
As an added treat, instead of me typing and uploading each song for you, I want to welcome Larry Ravenswood of The Strawberry Pop Show, as the guest DJ to play and count down the top ten songs of the 60s decade, according to the survey results.
Larry will count them down in a style that only he can do. Take time to review Larry's bio while you listen to the countdown 60s style of the top ten songs of the 60s decade based on your vote.
If this page is not playing the countdown then you do not have shockwave flash enabled on your computer or your computer does not accept those files. In that case go to the bottom of the page where I have set up the program in 4 parts that you can play by clicking.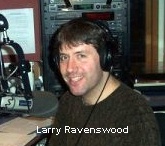 Larry Ravenswood at the controls for our broadcast of the top ten countdown
About Larry
Larry Ravenswood was born in Chicago in the early 1960s, and practically from the point of birth , he had always had a happy ear for music, especially popular music. He remembers his mother playing Beatles records(and that means RECORDS ..VINYL!) when he was in the playpen. As the 60s became the 70s, Larry carried his enthusiasm for pop music into a whole new ecstacy: American Top 40. Not a week would go by where Larry wasn't glued to his favorite radio program listening to Casey Kasem's every word..it was "heavenly"!..
From 2004-2005 Larry produced and hosted a program called "The Strawberry Pop Show" on KFAI radio Minneapolis/St. Paul. The program attracted many listeners and(in Larry's humble opinion) became a late night cult classic. The format featured many sights and sounds that Larry heard in his youth..and then some!
These days, the Strawberry Pop Show is less of a current radio program and more of a "virtual simulation" of what a show might've and could've sounded like back in the "day". Stay tuned for future info and happenings with the Strawberry Pop Show.




http://larryravenswood.com/strawberrypopshow/index.html