The Spotlight Is On Vikki Carr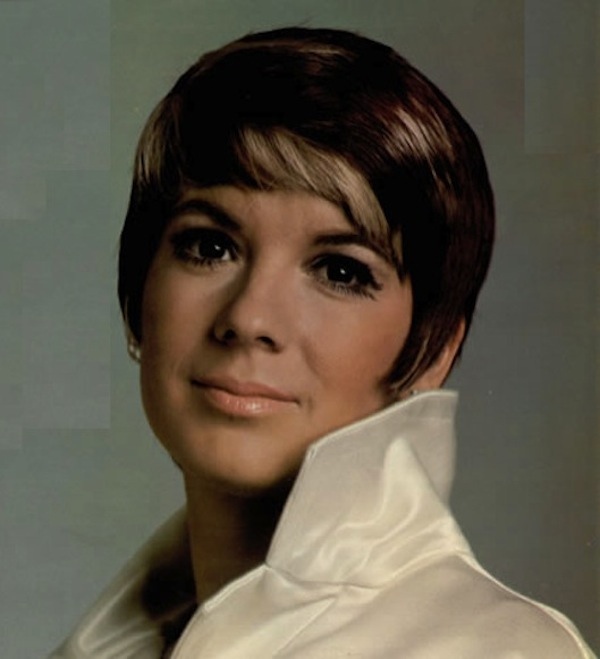 If you like pure music talent and a voice laden for string arrangements, like I do, then Vikki Carr is the first to come to your mind. I have chosen Vikki Carr as this month's spotlight artist not only for her voice and her beauty but her music was so much a comfort to me while in Vietnam. I had her album and played it just to relax me during stessful times. Don't get me wrong, I listened to the Doors, Blood, Sweat and Tears, Cream and others but when I needed quiet listening pleasure, I opt for Vikki Carr.
I really paid attention to Vikki Carr when I heard her recording of "It Must Be Him" in 1967. I immediately bought her LP. Although she only had three songs on the Top Forty on Billboard ("It Must Be Him," "The Lesson," and "With Pen In Hand") I really enjoyed listening to her music. Through Vikki Carr's music, she made me think she was lonely and heartbroken. How can a woman so beautiful be heartbroken? It later occurred to me, she put so much heart and soul into her singing that the lyrics of the songs she sang were actually believable. During many performances tears would roll down her cheeks as she sang. She just made you feel like she was living the lyrics. What a great vocalist!
Vikki was born Florencia Bisenta de Casillas Martinez Cardona in El Paso, Texas, though her family soon moved to Los Angeles where her name was simplified to Florence Cardona. Young Florence made her musical debut at the age of five as a singing angel in her school's Christmas pagent, performing "Silent Night" and "Adeste Fideles" in Latin. Her budding career almost ground to a halt when she looked into the audience and spotted her mother crying, not realizing that they were tears of pride and joy in her accomplishment.
Vikki Carr's strict father was lenient when it came to musical pursuits (he once had dreams of a singing career of his own), and he encouraged his daughter to participation in high school choir and extracurricular music appreciation classes. After graduation Florence (Vikki Carr) took a job as a bookkeeper in a local bank, though she continued singing with community groups and nurturing her youthful admiration for Doris Day.
One afternoon her father was car shopping at the local car dealership of a friend when his friend happened to mention that his son was in search of a bilingual female vocalist. Florence's (Vikki Carr) audition won her a spot with Pepe Callahan's Mexican-Irish band, and she was renamed "Carlita" for their debut at the Chi Chi Club in Palm Springs. This was during an era when the Gidget beach movies and French actress Bridget Bardot were both enjoying widespread popularity.
After leaving Callahan "Carlita" travelled the lounge circuit in Reno as a singer with The Fabulous Woodsons, a neo-vaudeville toupe that included a flaming baton twirler in its company. She moved on to Lake Tahoe and Las Vegas paired with the Chuck Leonard Quartet and beginning singing a mix of old favorites and more contemporary material with sophisticated arrangements influenced by some of the most adventurous vocal groups of the day. At this point a name change was in order, "Carlita" dreamed of an offbeat spelling of the first name "Vikki" and decided to shorten her original surname to "Carr." Vikki Carr was born.
After one last tour of the lounge circuit with an act billed as "The Andrini Brothers." Vikki weared of the grind and with encouragement of her father, took $25 and an accordian playing friend into a recording studio to make a demo of six of her favorite songs with the intention of shopping around to various record labels. In 1962, after much perserverance, she finally found a pair of friendly ears int the person of Sy Waronker at Liberty Records, who took her to meet red-hot producer Snuff Garrett. Garrett had a Gene Pitney composition on his desk he felt would go a long way to establishing a new Liberty artist. "He's A Rebel" was not an attempt to change Vikki Carr into a rocker but to establish her and give her a shot at some exciting new material. Unfortunately, Phil Spector picked up the song and "The Crystals" with lead singer from "The Blossoms", Darlene Love rocketed the song to number 1 on the Billboard Charts. Although Vikki Carr's version only reached the 115 position on the charts it demonstrated her versatality of handling any song and positioned her to become one of the most recognized voices in pop music in the world.