Straddling the Lines
by Eva Pasco, author of the novel "Underlying Notes"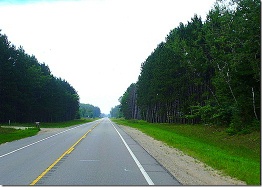 Chatting over a landline with my sister the other day, we straddled the line of demarcation between the past and present, concluding that our family road trips during the Sixties instilled in both of us, enough thrills and adventures to last a lifetime. More than the destinations themselves, it was everything a road trip entailed from the hustle and bustle of getting an early start, rustling up grub, and watching the world go by in transit along single broken lines, solid lines, or double lines on asphalt.
Prior to my dad's two week vacation, he'd hand my sister and me New England state maps to peruse and make a list of places we wanted to visit. Sometimes we'd read the points of interest, but more often our fingers followed along squiggly lines until we came across intriguing names. One summer, a name which elicited giggles and sparked our curiosity was "Lake Winnipesaukee" in New Hampshire. Teeming with roadside attractions, I settled on Polar Caves Park and my sister picked Santa's Village. Then, we spread out our Massachusetts road map…we never could fold those maps properly.
Once on the road for the long haul at sunrise, my sister and I made a show of drawing an imaginary Maginot line along the backseat to delineate our boundaries in an attempt to mark our territorial space. Mid morning, my dad would stop to get us a late breakfast snack. I became a connoisseur of corn muffins, preferring rectangular over round, nevertheless savoring their buttery taste in any shape. By high noon when the sun blazed, all of us rolled down our windows. As the wind could wreak havoc with a hairdo, this was my cue to slip on one of those poufy mesh "whimsies" that made allowances for a bubble flip.
Like pioneers traveling by covered wagon, my mother packed the back of our Plymouth Suburban to the hilt with a Coleman stove, cooking utensils, and a cooler stuffed with all the fixings to prepare a full-fledged meal on the picnic grounds of our destination. I remember the hieroglyphs, rock rainbows, and dampness spelunking inside the Polar Caves. Though initially begrudging my sister's trip wish to visit Santa's Village, I mellowed when I saw how enchanted she was with Santa and his reindeer.
Throughout the ride back home, my sister and I had bouts of giddiness and road friction. Crossing over the line by detouring for ice cream proved a diversionary antidote to quell the antics of two backseat barbarians. As the sun set on a day of adventure, the two of us often straddled our imaginary line to sit arm in arm along the backseat, while peering out our windows as the world passed us by.
Click the book images to order your copy of the books.
Signed copies of the Paperback, 40 % off suggested retail, may be acquired at the Authors Den Signed Bookstore via Eva's web page: http://www.authorsden.com/evapasco