My interest with Route 66 started just like any other baby boomer. I watched "Route 66" on TV. It was a story about two men, Todd Stiles and Buzz Murdock who traveled around the country together in Tod's Corvette in search of adventure. They came from radically different backgrounds and become great friends. Tod was from a wealthy family, but when his father died unexpectedly, he discovered that most of the money was gone. Buzz had grown up in the jungle of New York and had been employed by Tod's father prior to his death. What was great about this series was that it was filmed on location as they crisscrossed the United States in their travels without really a destination. During these travels they met all sorts of people getting into all kinds of situations.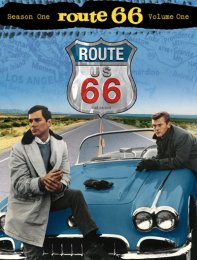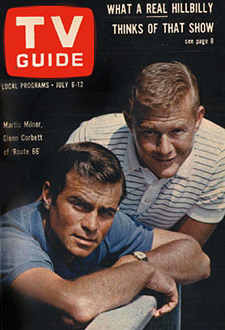 Route 66 Facts and History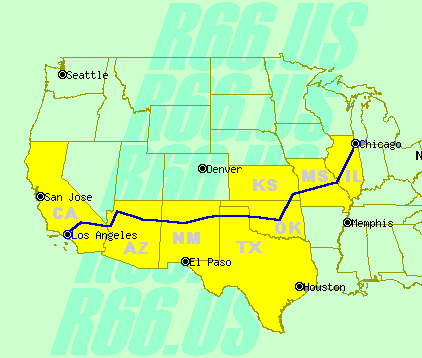 U. S. Highway "Route" 66 was commissioned in 1926, the year U. S. numbered highways came into existence. It consisted of a 'collection" of two-lane concrete or asphalt paved roads extending from Chicago to Santa Monica, California running through the states of Illinois, Missouri, Kansas, Oklahoma, Texas, New Mexico, Arizona, and California. Route 66 is considered the "Mother Road" of American highways. The old "Main Street of America" was deactivated in 1984 and the U. S. 66 highway shields taken down, after being replaced by the modern interstate highway system. That day when the shields came a down a new era was launched. Twenty years after deactivation of Highway 66 we now long for that time to return. People from all walks of life are taking the tour of old Route 66. Couples are making honeymoon trips following the old route of "The Mother Road." Some folks have taken upon themselves to make a bicycle trip following the route and still countless others are taking the trip and filming and photographing the people, the sites and the old memories. Bobby Troupe wrote "(Get Your Kicks on) Route 66" which was made famous by Nat King Cole. This song was given credit for reviving the interest in Route 66 in the early 60s even though the song was written in 1946. Bobby Troupe although a songwriter and a jazz pianist, is better recognized by baby boomers as the actor who played the part of Dr. Joe Early in the 1970s TV series Emergency.
If you type Route 66 in Google search you will receive over 31 million matches. This gives you an idea what this highway means to Americans. Right now there is a movement to restore many historical areas and old buildings along "The Mother Road" in hopes of bringing back the memories of highway travel and many baby boomers childhood memories. I hope it happens in my life time. Enjoy the trip.
The Route: US 66 went from Chicago to Santa Monica, going through the heart of the Great Plains and through the barren Southwest. It started at Lakeshore Drive near Grant Park in Chicago, then headed toward the southwest out of Chicago, approximating the route of I-55 to St. Louis, MO. From there it followed I-44 to Oklahoma City where it headed almost due west along its successor I-40. It followed I-40 through New Mexico, Arizona, and California to Barstow, when it made a sea change in direction and headed almost due south toward the Los Angeles Basin along what is now I-15. Once it entered the basin, it followed Cajon Blvd, which was replaced by what is now I-215. In San Bernardino, it made another sea change in direction, once again heading due west along what is now CA SR-66. This last signed portion of 66 does the highway no justice, but at least it's there. From San Dimas it continued along Foothill Blvd, Huntington Park Dr, then Colorado Blvd. When it reached Pasadena it headed south along Figueroa St. (later US 66A); once the historic Pasadena Fwy (Arroyo Seco Pkwy) was completed in 1940, it carried the US 66 shield. US 66 then intersected US 101 and the two remained co-signed to the heart of Hollywood. From there, US 66 headed toward the ocean along Santa Monica Blvd, finally ending on top of the bluffs at Ocean Ave in Santa Monica, overlooking the Pacific Ocean. There is a plaque commemorating US 66 and tying it in with Will Rodgers, the beloved comedian and pundit.
The memories of Route 66 remain in folklore, pictures and stories even the highway that so many people remember are only remenants of that era. Businesses have come and gone though some managed to stay afloat where Route 66 once passed through Main Street of these towns. So many small towns that were a large part of Route 66 are now ghost towns having died when the large intersate highways by-passed them.
The by-gone days of the 30s through the 60s of Route 66 have now been laid to rest thanks or no thanks to progress. Sometimes we just move too fast for our own good and never stop to smell the coffee at a little Ma and Pa cafe or stop and enjoy the serenity of a small town so far away from the hustle and bustle of our daily lives. How many of us today while traveling by auto ever take the time to get off the interstate and take in the view of a small town or attraction? We are in too big of hurry to get to our destination. I guess that is why Route 66 is still alive in the memories of many people because it lets us to return to a time when we weren't in a hurry or at least it seemed that way.
Share your thoughts on Route 66 or any other 60s subject in the Guestbook.
Take in the view or you might say the ghosts of the past of Route 66 which was know as the Mother Road.
Click Here to view photos of what was yesterday. More will be added as they become available.