Paul Revere and the Raiders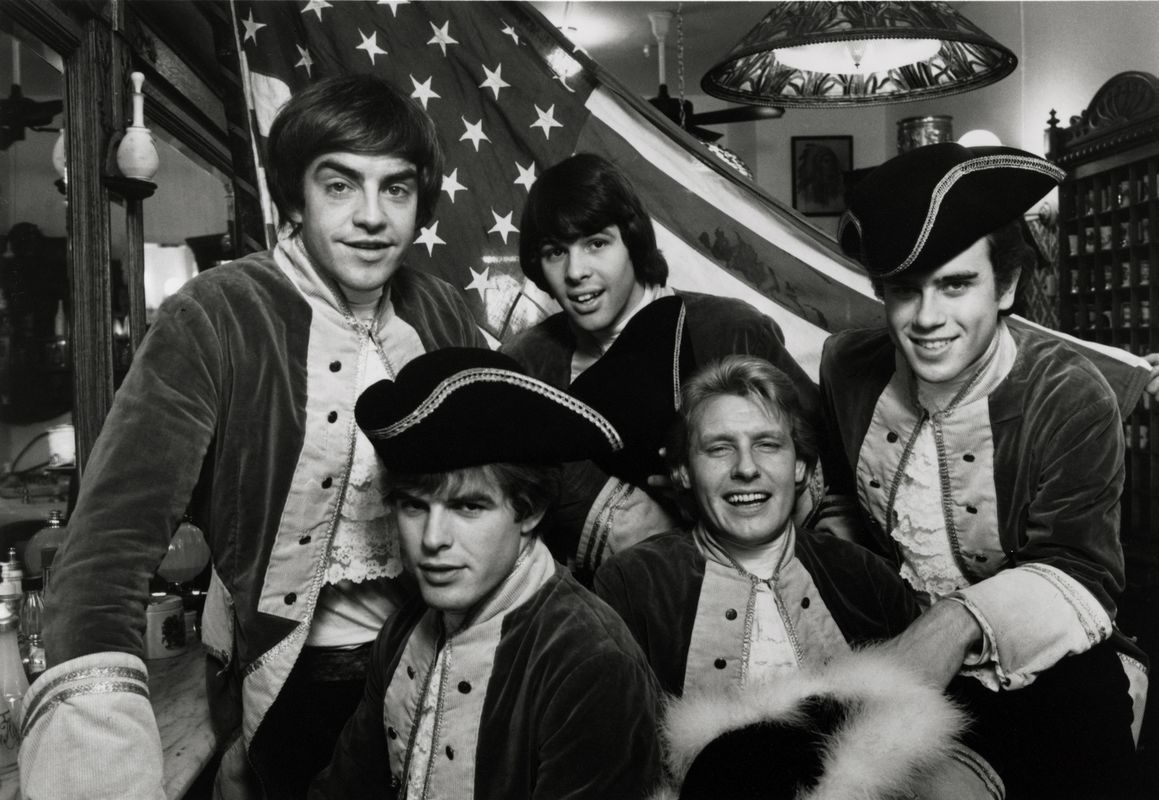 This group started in Boise, Idaho as an instrumental rock band led by organist Paul Revere Dick. In his early twenties Revere owned several restaurants in the Caldwell, Idaho area and met singer Mark Lindsey while picking up hamburgers where Lindsey worked. Lindsey joined Revere's group originally known as "The Downbeats." They changed their name to Paul Revere & The Raiders in 1960 on the eve of their first record release for Gardena Records. The band scored their first Pacific Northwest hit in 1961, with "Like, Long Hair". The song had enough national appeal that it peaked at No. 38 on the Billboard charts on April 17, 1961. When Revere was drafted for military service, he became a conscientious objector and worked as a cook at a mental institution for a year and a half of deferred service, while Lindsay pumped gas in Wilsonville, Oregon. Lindsay, on the strength of their Top 40 single, toured the U.S. in summer 1961 with a band that featured Leon Russell filling in for Revere on piano.
By summer 1962, Revere and Lindsay were working together again in Oregon with a version of The Raiders that featured drummer Mike "Smitty" Smith (not to be confused with The Dave Clark Five's lead vocalist and keyboardist Mike Smith), who would spend two long periods with the band. Around this time, KISN DJ Roger Hart, who was producing teen dances, was looking for a band to hire. Hart had a casual conversation with a bank teller who told him about a band called "Paul Revere-something". Hart obtained Revere's phone number and they met for lunch. Hart hired the band for one of his teen dances. Soon afterwards, Hart became the group's personal manager. It was Hart who suggested they record "Louie Louie", for which Hart paid them about $50, producing the song and placing it on his Sande label, ultimately attracting the attention of Columbia Records. According to Lindsay, the Northwest Raiders were a "bunch of white-bread kids doing their best to sound black. We got signed to Columbia (Records) on the strength of sounding like this". Whether the Raiders or The Kingsmen recorded "Louie Louie" first is a matter of some controversy. However, both groups recorded it in the same studio in Portland, Oregon on Northwest 10th Avenue. By then, Raiders included Revere, Lindsay, Smith, guitarist Drake Levin and bassist Mike "Doc" Holliday, who was replaced in early 1965 by Phil Volk.
In 1965, The Raiders began recording a string of garage rock classics. Under the guidance of producer Terry Melcher, the group relocated to Los Angeles and increasingly emulated the sounds of British Invasion bands such as The Beatles, The Rolling Stones, The Dave Clark Five, and The Animals, albeit with an American, R&B feel. Their second major national hit, "Just Like Me" (No. 11, 1965) was one of the first rock records to feature a distinctive, double-tracked guitar solo (by guitarist Drake Levin).
The band appeared regularly on national television, most notably on Dick Clark's Where the Action Is, Happening '68, and It's Happening, the latter two of which were co-hosted by Revere and Lindsay. Here they were presented as an American response to the British Invasion. Playing on Revere's name, the group wore American Revolutionary War soldier uniforms, and performed slapstick comedy and synchronized dance steps while the ponytailed Lindsay lip synched to their music. This farcical, cartoonish image obscured the proto-hard rock sound that their music often took. The Raiders were endorsed by the Vox Amplifier Company (Revere used their Vox Continental combo organ, while Volk was seen on television playing their Phantom IV bass (nicknamed "the coffin bass" due to the shape of its body) —with "FANG" in masking tape letters on the backside—and everyone played through Vox Super Beatle amplifiers). Levin left the group in 1966 to join the National Guard, and was replaced by Jim Valley, another Northwest musician the Raiders had met and come to admire during their days playing the Portland and Seattle circuit. Valley was dubbed "Harpo" by the other Raiders due to a vague resemblance to the famous Marx brother (his trademark shtick on Where The Action Is was his horn, which would either bring good luck or bad luck). Their hits from the mid-60s included "Kicks" (Billboard Pop Chart No. 4), "Hungry" (No. 6), "The Great Airplane Strike (No. 20), "Good Thing" (No. 4), and "Him or Me - What's It Gonna Be?" (No. 5). Of these, "Kicks" became their best-known song, an anti-drug message written by Barry Mann and Cynthia Weil that was originally earmarked for The Animals. (Mann later revealed in interviews that the song was written about their friend, fellow 1960s songwriter Gerry Goffin, whose on-going drug problems were interfering with his career with then-wife Carole King.)
In mid-1967, with three gold albums to their credit, The Raiders were Columbia's top-selling rock group; their Greatest Hits was one of two releases selected by Clive Davis to test a higher list price for albums expected to be particularly popular, along with Bob Dylan's Greatest Hits.
At the height of the band's popularity, the power trio of Valley, Volk and Smith left, disenchanted that the group was prevented from evolving into a more egalitarian creative team, miffed at being replaced by studio musicians on recordings, and unhappy with a continued teen-oriented direction while a more serious rock 'n' roll style was emerging. The first to leave was Valley, who embarked on a solo career. Drake Levin rejoined the band on guitar to finish the spring 1967 tour. Levin, Volk, and Smith flew to New York together and the Raiders were set to perform on "The Ed Sullivan Show". However, Revere was upset about the trio leaving the group and blamed Levin for influencing Volk and Smith's pending departure. Levin showed up at the Ed Sullivan Theatre to perform with Volk and Smith for the very last time, but Revere refused to allow Levin to play. Unbeknownst to the group, Revere had hired a new guitar player, Freddy Weller, to perform that night. Levin graciously stepped aside and even showed Weller the chords to the songs. Levin was forced to watch the performance from the wings as the Raiders made their one and only appearance on Sullivan's show, on April 30, 1967. It was the only time that the lineup of Revere, Lindsay, Smith, Volk and Weller performed together. The following month, Volk and Smith left, subsequently rejoining Levin to form a band called Brotherhood. Charlie Coe, who had played guitar for The Raiders in 1963, rejoined the group on bass and Joe Correro, Jr. became the new drummer.
The "Happening" era
Changing tastes in the late 1960s rendered the group unfashionable, but they still continued to have modest hits through the rest of the decade, including "Ups And Downs," "I Had A Dream," "Too Much Talk," "Don't Take it So Hard," "Cinderella Sunshine," "Mr. Sun, Mr. Moon," and "Let Me." On January 6, 1968, just four months after the cancellation of Where The Action Is, Revere and Lindsay returned to the air as hosts of a new Dick Clark-produced show in which the Raiders made several appearances, Happening '68 (later shortened to Happening). This weekly series was joined from July to September that year by a Clark-produced daily series It's Happening, also hosted by Revere and Lindsay. In August 1968, bassist Coe left the group again and was replaced by former Action heartthrob Keith Allison.
Mark Lindsay took more control of the band during this time. He produced all records beginning with Too Much Talk in 1968, and the psychedelic album Something Happening. Lindsay's vision was represented on songs such as "Let Me" (a 1969 gold single), and the albums Hard 'N' Heavy (with marshmallow) and Alias Pink Puzz. (According to allmusic.com, Pink Puzz was the identity under which the Raiders first tried to get the album played on FM radio, a gambit that failed though the band kept the joke name for the album title.) The success of "Let Me" allowed Paul Revere and the Raiders to tour Europe with the Beach Boys in the spring of 1969 (they also recorded two songs for the long running German music program Beat-Club at this time). Later that autumn, Happening ended its run.
The Raiders's biggest hit of the period, "Indian Reservation", was recorded as a Mark Lindsay solo session. Some sources erroneously credit the lead vocals to Weller, who had recorded a cover version of The Cowsills's hit "Indian Lake" around the same time, hence the confusion. As a promotional gambit, Revere took the unusual step of riding cross-country a total of four times, plugging the song at every market available. His efforts paid off: "Indian Reservation" peaked at No. 1 for one week in July. Paul Revere: "I called the head of Columbia's promotion and told him I was going on a record promotion trip, which was something artists didn't do anymore." "Indian Reservation" became Columbia's biggest-selling single for almost a decade, clearing over six million units. The success of the single was followed by a Top 20 album Indian Reservation and the No. 23 hit "Birds of a Feather". The Raiders also expanded to include drummer Omar Martinez and keyboardist Bob Wooley.
In 1972, The Raiders made one last attempt at a pop album, with Country Wine, but Columbia was sinking money into other acts, such as Blue Öyster Cult and Aerosmith, and Country Wine sank in the resulting quagmire. The band continued to release singles for Columbia between 1972 and 1975, including "Country Wine", "Powder Blue Mercedes Queen", "Song Seller", "Love Music" and "All Over You", with only "Country Wine" reaching the Top 40 (peaking at 30 on the Billboard chart). Weller and Smith had departed on New Year's Eve 1972, Weller being replaced by guitarist Doug Heath. As their chart career faded, The Raiders' concert fortunes dwindled, and they found themselves playing lounges and state fairs as an "oldies" act, a situation Revere found pleasing, but not Lindsay. Referring to a 1973 show at Knotts Berry Farm, Lindsay stated, "That (show featured) one of our bad sets. They only let us do thirty minutes and it's hard to construct a good show. We didn't do any of the old (songs)."

Lineup changes ensued in 1975, with Mark Lindsay departing the band after a gig at Knott's Berry Farm. Lindsay continued his solo career, having previously landed a hit single in late 1969 with Kenny Young's "Arizona". After two final singles for Warner Bros. records in 1977, Mark turned his attentions to film scoring and commercials. He was also head of A&R (artists & repertoire) for United Artists Records in the 70s. Keith Allison departed in April 1975, to be replaced by current Raider bassist Ron Foos."
Country music was the choice of former guitarist Freddy Weller, who had much success on the country charts before, starting with his country version of Joe South's "Games People Play" in 1969 reaching #2 on the country charts as well as recording albums (his first two solo albums were produced by Mark Lindsay), and Top 10 singles on the country singles charts such as his covers of Chuck Berry's "Promised Land", The Cowsills' "Indian Lake", as well as "These Are Not My People" and "Another Night of Love" for Columbia during this time while with the Raiders, as well as after leaving the Raiders (Freddy's stint was 1967-1973).
In a memorable event, Revere married for the second time on the 4th of July, Bicentennial Year 1976 on stage at a Raiders show ." Revere announced his retirement from the music business at the end of 1976, but was back on the road by 1978 with a new cast of Raiders. Along with guitarist Doug Heath, Revere linked in this period with a group called "Louie Fontaine & The Rockets", and went on the road with them as "Paul Revere & The Raiders", featuring Blair Hill ("Louie Fontaine") as lead vocalist. This configuration even appeared as "Paul Revere's Raiders" without Paul, for awhile in 1978.
The quintet of Paul Revere, Mark Lindsay, Drake Levin, Phil Volk and Mike Smith reunited for Dick Clark on national television in 1979 and performed a medley of their biggest hits. The same year "Indian Reservation" was covered by the German group Orlando Riva Sound.
Original bassist Phil "Fang" Volk currently tours with his own band, "Fang and the Gang". Since 1967, he's been married to "Where The Action Is" regular Tina Mason.
After leaving the Raiders in 1967, Jim Valley continued to perform and hone his songwriting skills in a variety of acts. In the early 1980s he was encouraged by educational professionals to use his musical talent to help inspire school kids. He is now an acclaimed and award-winning children's music artist and educator, traveling the world as an emissary of the "Rainbow Planet". Now living back in his native Pacific Northwest, Valley also continues to write and record his own albums.
Joe Correro Jr., the Raiders' drummer from 1967–1971, currently performs as part of the Los Angeles-based Richard Sherman Trio jazz combo.
Bassist Mike "Doc" Holiday and guitarist/bassist Charlie Coe made a special guest appearance with Mark Lindsay at a show in Boise, Idaho in 1996. They both still reside in Idaho.
Carlo "Carl" Driggs, Paul Revere & The Raiders' longest-serving lead singer (a 20-year-plus span), was formerly lead vocalist for Kracker, a band that toured Europe as an opening act for (and had their albums distributed outside America by) The Rolling Stones. He followed this with his tenure in the Latin/disco group Foxy, who scored a number one hit on the Hot R&B/Hip-Hop Songs chart (#9 on Billboard Hot 100) with "Get Off", whch was co-written by Driggs.
Righteous Brothers Bill Medley's son, Darrin Medley, also sang and performed with Paul Revere & the Raiders.
After ending his second stint with The Raiders in 1972, drummer Mike "Smitty" Smith moved to Kona, Hawaii and continued performing for several groups in that region. Smith died of natural causes on March 6, 2001, three weeks before his 59th birthday.
Guitarist Drake Levin became an accomplished blues guitarist, playing in and forming numerous groups in the San Francisco Bay Area. On July 4, 2009, Levin died at his home in San Francisco after a long battle with cancer. He was 62.
The group's founder, vocalist and keyboard player Paul Revere died of cancer at his home in Garden Valley, Idaho on October 4, 2014, aged 76. His funeral, held at the Cathedral of the Rockies in Boise, Idaho, was attended by, amongst others, former Idaho Governor Dirk Kempthorne