Neil Sedaka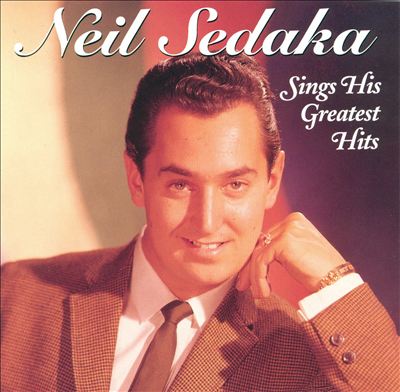 Neil Sedaka is an American pop singer, pianist, and songwriter who is often associated with New York City's Brill Building. He teamed up with Howard Greenfield to write many major hit songs for himself and others. Sedaka's voice is in the tenor and alto ranges.

Sedaka is the son of Turkish immigrant Mac Sedaka, a taxi driver, and mother, Eleanor (Appel) Sedaka, who was of Polish-Russian descent. He first demonstrated musical aptitude in his second-grade choral class, and when his teacher sent a note home suggesting he take piano lessons, his mother got a part-time job in a department store for six months to pay for a second-hand upright. In 1947, he auditioned successfully for a piano scholarship to the prestigious Juilliard School of Music's Preparatory Division for Children, which he began to attend on Saturdays. He also maintained an interest in popular music, and when he was 13, a neighbor heard him playing and introduced him to her 16-year-old son, Howard Greenfield, an aspiring poet and lyricist; the two began writing songs together.

His best known Billboard Hot 100 hits of his early career are "Oh! Carol" (number 9, 1959), "Calendar Girl" (number 4, 1960), "Happy Birthday Sweet Sixteen" (number 6, 1961), and "Breaking Up Is Hard to Do" (number 1, 1962). "Oh! Carol" refers to Sedaka's Brill Building compatriot and former girlfriend Carole King. King soon responded with her own answer song, "Oh, Neil", which used Sedaka's full name.


In 1973, Sedaka helped ABBA write the English lyrics of the song "Ring Ring" for the Eurovision contest. He began working in England with Elton John, who signed him to his Rocket Records label. Following a decade-long fallow period, Sedaka returned to the public's attention with a flourish, topping the charts twice "Laughter in the Rain" and "Bad Blood" (both 1975). Elton John provided backing vocals for the latter song. The flipside of "Laughter in the Rain" was "The Immigrant", a wistful, nostalgic piece recalling the days of more welcoming attitudes toward newly arrived peoples from many cultures in America. Sedaka and Greenfield also co-wrote "Love Will Keep Us Together", a No. 1 hit for The Captain and Tennille and the best selling record of 1975. The song, if listened to carefully, reveals the lyric 'Sedaka is back' in the coda (sung by background singers).

In 1976, Sedaka recorded a new version of "Breaking Up is Hard to Do." The chart-topping 1962 original was fast-tempo and bouncy teen pop, but the remake was much slower and in the style of a Jazz/Torch Piano centered arrangement. It reached number 8 on the pop charts, thus becoming the second artist to hit the US Top Ten twice with two separate versions of the same song. "Breaking Up is Hard to Do" topped Billboard's Adult Contemporary chart.

He has also written numerous songs for other artists like Elvis' "Solitaire," Tony Christie's "Is This The Way to Amarillo," and The Captain and Tennille's "Love Will Keep Us Together."
It is unfortunate that as talented as Neil Sedaka is, he is not in the Rock 'n Roll Hall of Fame A petition is now being prepared to push for his induction. Nobody has done more for the rock 'n roll era than Neil Sedaka.
Source: Wikipedia