Gene Pitney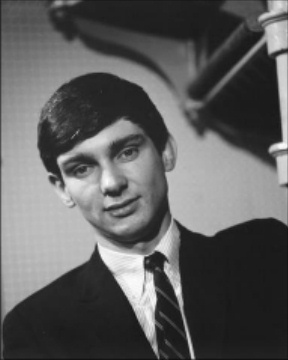 Gene Pitney was born in Hartford, Connecticut. He grew up in Rockville, now a part of the town of Vernon. His early musical influences were Clyde McPhatter and Doo Wop groups like The Crows. He attended Rockville High School from which he earned the name "The Rockville Rocket," and where he formed his first band called "Gene & the Genials." He also made a couple of records as part of a duo called "Jamie and Jane" with Ginny Arnell (who later had a solo hit of her own, "DumbHead"), and then released a single in 1959 under the name Billy Bryan.
In 1961, Gene Pitney released his first chart single, "(I Wanna) Love My Life Away", on which he played several instruments and multi-tracked the vocals. This was followed by his first big hit,"Town Without Pity", that same year. This song, from the film of the same name starring Kirk Douglas, won the Golden Globe Award for Best Song in a Motion Picture and was nominated for an Academy Award for Best Song. Pitney was the first pop singer to perform at the Oscars, singing "Town Without Pity" at the 34th Annual Academy Awards on April 9, 1962.
Pitney helped his musical career by writing hit songs for others. Notable songs include "He's a Rebel" for The Crystals, Vikki Carr and Elkie Brooks, "Today's Teardrops" for Roy Orbison, "Rubber Ball" for Bobby Vee and "Hello Mary Lou" for Ricky Nelson. The Crystals' "He's A Rebel" kept Pitney's highest peaking Hot 100 record "Only Love Can Break A Heart" from being atop that chart on November 3, 1962.
Gene Pitney is also well remembered for "The Man Who Shot Liberty Valance", which was associated with the 1962 John Ford film of the same name, starring Jimmy Stewart, John Wayne, Vera Miles and Lee Marvin. Pitney gave a strong and distinctive vocal performance of the song, penned by Burt Bacharach and Hal David. Although it was a certified Top 10 hit for Pitney, it was never used in the movie due to a publishing squabble between Famous Music and Paramount Pictures. A theatrical trailer included with a DVD release mentions a forthcoming title track, but not by name.
His 1963 hit "Mecca" is considered by some to be a precursor to psychedelia in its use of Indian musical influences, at least three years before The Beatles began incorporating these influences. The use of exotic musical instruments became something of a Pitney trademark, judging by the Mariachi trumpets employed in "Lonely Drifters", the ukuleles in "Hawaii", and the gypsy fiddle in "Golden Earrings".
His ongoing popularity in the UK market was ensured by the chart success of "Twenty Four Hours From Tulsa" at the end of 1963/beginning of 1964, when in January the Burt Bacharach/Hal David song peaked at #4. "Tulsa" was also a big hit in the US and would become the song that opened up Pitney's career to the international markets.
Along with Phil Spector, Pitney was present at some of the Rolling Stones' early recording sessions in London, including one for "Little by Little" (the b-side of their first top-10 single) and other tracks for their debut album; he apparently played piano, though the extent to which his contributions were used -- if at all -- is uncertain.
The Jagger/Richards-penned song "That Girl Belongs to Yesterday" was a UK hit for Pitney in 1964; it was the first tune composed by the Rolling Stones' songwriting duo to become a top-10 hit in the UK: In the US, however, the single was a comparative flop, stalling at #49 and ending a run of 7 straight Top 40 A-sides for Pitney as a performer.
After another low-charting single (1964's "Yesterday's Hero"), Pitney released another unbroken string of hit singles in the mid-1960s, with the unrequited love classic "It Hurts To Be in Love" (US #7) and "I'm Gonna Be Strong" (US #9) in 1964, and "Nobody Needs Your Love" in 1966 (the first two were top 10 in the US; the last two peaked at No. 2 in the UK). "It Hurts To Be in Love" was originally planned as a vehicle for Neil Sedaka. When Sedaka decided not to record it, Pitney used the existing backing tracks and just added his lead vocal.
In 1965, Pitney recorded two successful albums with country legend George Jones. They were voted the most promising C & W Duo of that year. Pitney also recorded songs in Italian and Spanish, and twice finished second in the Sanremo Music Festival, where his strong vibrato may have reminded older listeners of the Italian tenor Caruso. He had a regional hit with"Nessuno Mi Puo' Giudicare".
Gene Pitney's career in the US took a downturn after mid-1966, when "Backstage" ended another run of top 40 hits. He would return one last time to the top 40 charts with "She's a Heartbreaker" in mid-1968, and have a few other very minor hits in the lower reaches of the Hot 100 after that, but by 1970, he was no longer a hitmaker in the US.
However, Gene Pitney maintained a successful career in Britain and the rest of Europe well into the 1970s, appearing regularly on the UK charts as late as 1974. One of the few star performers to have survived the 1960s unscathed, his fitness regime built the stamina he required for his singularly dithyrambic stage act.
In the early 70s, Gene Pitney made a personal decision to cut back on his touring deciding only to spend six months of each year on the road, and the remainder with his family.
Gene Pitney last hit the UK charts after an absence of fifteen years with 1989's duet with Marc Almond, a new version of "Something's Gotten Hold of My Heart", a song by British writers Roger Cook and Roger Greenaway, which had originally been a No. 5 solo hit for Pitney in 1967, and which belatedly brought him his first UK Number 1 hit, staying there for four weeks. It also went #1 in many European countries as well. Sales were boosted particularly by the two vocalists' appearance on the Terry Wogan TV show as it was climbing the charts. Pitney's US record company declined to issue the record in America on the grounds that buyers would mistake it for a vocal duet by two gay men, Almond being leather-clad as usual, and Pitney dressed in a white tuxedo.
Before that,Cult band Nick Cave & the Bad Seeds had already recorded "Something's Gotten Hold of My Heart" on their cover album "kicking against the pricks" in 1986.Even though the album was critically acclaimed & did very well on independent charts,it never reached the commercial success of the Pitney / Almond duet.
On February 26, 1993, Gene Pitney performed at the prestigious Carnegie Hall in New York coincidentally the same day of the first World Trade Center bombing. On March 18, 2002 he was inducted into the Rock and Roll Hall of Fame.
Pitney died on April 5, 2006 at the age of 66. He was found dead by his tour manager in the Hilton Hotel in Cardiff in the middle of a UK tour. His final show at Cardiff's St David's Hall was deemed a huge success, with a standing ovation, ending the show with his 1962 hit "Town Without Pity". An autopsy confirmed the singer died of natural causes He was laid to rest on April 13, 2006 at Somers Center Cemetery in Somers, Connecticut.
Gene Pitney Singles Listing
Release date

Title

Chart positions

US Hot 100

US

C

UK

1959?

Jamie & Jane

(Gene Pitney and

Ginny Arnell

):




Snuggle Up Baby

1959?

Jamie & Jane

(Gene Pitney and

Ginny Arnell

):




Classical Rock And Roll

1960

as

Billy Bryan

: Cradle Of My Arms

1960

Please Come Back

January 1961

(I Wanna) Love My Life Away

#39

#26

April 1961

Louisiana Mama

July 1961

Every Breath I Take

#42

October 1961

Town Without Pity

#13

#32

April 1962

(The Man Who Shot) Liberty Valance

(Reached #1 in the week of June 2 in Sydney, Australia)

#4

August 1962

Only Love Can Break a Heart

(A-Side)

#2

"

→ If I Didn't Have A Dime (To Play The Jukebox)

(B-Side)

#58

December 1962

Half Heaven - Half Heartache

#12

March 1963

Mecca

#12

June 1963

True Love Never Runs Smooth

#21

October 1963

Twenty Four Hours From Tulsa

#17

#5

January 1964

That Girl Belongs To Yesterday

(A-Side)

#49

#7

"

→ Who Needs It

(B-Side)

#131

April 1964

Yesterday's Hero

#64

July 1964

It Hurts To Be In Love

#7

#36

October 1964

I'm Gonna Be Strong

#9

#2

February 1965

I Must Be Seeing Things

#31

#6

April 1965

George & Gene

(George Jones & Gene Pitney):




I've Got Five Dollars And It's Saturday Night

#99

#16

May 1965

Last Chance To Turn Around

#13

June 1965

George & Gene

(George Jones & Gene Pitney):




Louisiana Man

(A-Side)

#25

June 1965

George & Gene

(George Jones & Gene Pitney):




I'm A Fool To Care

(B-Side)

#115

July 1965

Looking Through The Eyes Of Love

#28

#3

November 1965

Princess In Rags

#37

#9

November 1965

George & Gene

(George Jones & Gene Pitney):




Big Job

#50

January 1966

Gene Pitney and Melba Montgomery

:




Baby Ain't That Fine

#15

March 1966

Nessuno Mi Puo' Guidcare

#115

April 1966

Backstage

#25

#4

May 1966

George & Gene

(George Jones & Gene Pitney):




That's All It Took

#47

June 1966

Nobody Needs Your Love




European release only

#2

July? 1966

Gene Pitney and Melba Montgomery

:




Being Together

September 1966

(In The) Cold Light Of Day

#115

#38

December 1966

Just One Smile

#64

#8

March 1967

I'm Gonna Listen To Me

March 1967

Animal Crackers (In Cellophane Boxes)

#106

April 1967

Tremblin'

September 1967

Something's Gotten Hold Of My Heart

#130

#5

March 1968

The More I Saw Of Her

March 1968

Somewhere In The Country




European release only

#19

April 1968

She's A Heartbreaker

#16

October 1968

Billy, You're My Friend

#92

November 1968

Yours Until Tomorrow




European release only

#34

March 1969

Maria Elena




European release only

#25

December 1969

She Lets Her Hair Down (Early In The Morning)

#89

March 1970

A Street Called Hope

#37

October 1970

Shady Lady

#29

1971

Higher And Higher

1971

Gene Are You There?

1972

I Just Can't Help Myself

1972

Summertime Dreamin'

April 1973

24 Sycamore




European release only

#34

October 1974

Blue Angel




European release only

#39

June 1989

Marc Almond & Gene Pitney

:




Something's Gotten Hold Of My Heart




European release only

#1