Spotlight Artist - Cream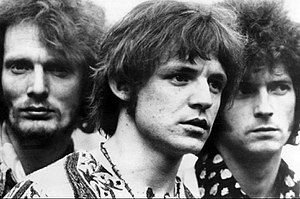 Cream was definitely a Super Rock Trio. They were from Great Britain consisting of Jack Bruce, drummer Ginger Baker, and guitarist/singer Eric Clapton. Their unique sound was characterised by a hybrid of blues rock, hard rock and psychedelic rock provided by Clapton's blues guitar playing, Bruce's powerful, versatile vocals and prominent bass playing, Baker's pulsating, jazz-influenced drumming and Pete Brown's poetry-inspired lyrics.
The band is widely regarded as being the world's first successful supergroup In their career, they sold more than 15 million albums worldwide. Their music included songs based on traditional blues such as "Crossroads" and "Spoonful", and modern blues such as "Born Under a Bad Sign", as well as more eccentric songs such as "Strange Brew", "Tales of Brave Ulysses" and "Toad".
The band's biggest hits are "I Feel Free" (UK, number 11), "Sunshine of Your Love" (US, number 5), "White Room" (US, number 6), "Crossroads" (US, number 28), and "Badge" (UK, number 18). The band made a significant impact on the popular music of the time, and, along with Jimi Hendrix and other notable guitarists and bands, popularised the use of the wah-wah pedal. They provided a heavy yet technically proficient musical theme that foreshadowed and influenced the emergence of British bands such as Led Zeppelin, The Jeff Beck Group, Deep Purple and Black Sabbath in the late 1960s and the early 1970s. The band's live performances influenced progressive rock acts such as Rush. The band was inducted into the Rock and Roll Hall of Fame in 1993.
The band first visited the United States in March 1967 to play nine dates at the Brooklyn Fox Theater in New York. There was little impact, as impresario Murray the K placed them at the bottom of a bill that performed three times per date, eventually reducing the band to one song per concert. They returned to record "Disraeli Gears" in New York between 11 May and 15 May 1967. The band's second album was released in November 1967 and reached the Top 5 in the charts on both sides of the Atlantic. Produced by Felix Pappalardi (who later co-founded the Cream-influenced quartet Mountain) and engineer Tom Dowd, it was recorded at Atlantic Studios in New York. "Disraeli Gears" is often considered to be the band's defining effort, successfully blending psychedelic British rock with American blues.
"Disraeli Gears" not only features hits "Strange Brew" and "Tales of Brave Ulysses", but also "Sunshine of Your Love," which would become the group's unofficial anthem. Bruce and Brown came upon the idea in a state of near desperation in the wee hours. In a last-ditch attempt to salvage something from the long and fruitless night at his apartment, the bleary-eyed Bruce pulled out his double bass again and played a riff that was to become one of the most popular in rock music.[citation needed] At that point, Brown looked out the window and saw the sun was about to make an appearance. "It's getting near dawn . . .," he said to himself. Brown put the words on paper then thought some more. "When lights close their tired eyes . . ." And so "Sunshine of Your Love" was born in the most unlikely of ways.
In August 1967, they played their first headlining dates in America, playing first at the Fillmore West in San Francisco and later at The Pinnacle in Los Angeles. The concerts were a great success and proved very influential on both the band itself and the flourishing hippie scene surrounding them. Upon discovering a growing listening audience, the band began to stretch out on stage, incorporating more time in their repertoire, some songs reaching jams of twenty minutes. Long, drawn-out jams in numbers like "Spoonful", "N.S.U.", "I'm So Glad", and "Sweet Wine" became live favourites, while songs like "Sunshine of Your Love", "Crossroads", and "Tales of Brave Ulysses" remained reasonably short.
In 1968 came the band's third release, "Wheels of Fire", which topped the American charts. Still a relative novelty, the "double album" of two LP discs was well suited to extended solos. Wheels of Fire studio recordings showcased the band moving slightly away from the blues and more towards a semi-progressive rock style highlighted by odd time signatures and various orchestral instruments. However, the band did record Howlin' Wolf's "Sitting on Top of the World" and Albert King's "Born Under a Bad Sign". According to a BBC interview with Clapton, the record company, also handling Albert King, asked the band to cover "Born Under a Bad Sign", which became a popular track off the record. The opening song, "White Room", became a radio staple. Another song, "Politician", was written by the band while waiting to perform live at the BBC. The album's second disc featured three live recordings from the Winterland Ballroom and one from the Fillmore. Clapton's second solo from "Crossroads" has made it to the top 20 in multiple "greatest guitar solo" lists.
After the completion of "Wheels of Fire" in mid-1968, the band members had had enough and wanted to go their separate ways. Baker stated in a 2006 interview with Music Mart magazine, "It just got to the point where Eric said to me: 'I've had enough of this,' and I said so have I. I couldn't stand it. The last year with Cream was just agony. It damaged my hearing permanently, and today I've still got a hearing problem because of the sheer volume throughout the last year of Cream. But it didn't start off like that. In 1966, it was great. It was really a wonderful experience musically, and it just went into the realms of stupidity." Bruce and Baker's combustible relationship proved even worse as a result of the strain put upon the band by non-stop touring, forcing Clapton to play the perpetual role of peacekeeper.