A Tribute to Twiggy
by Eva Pasco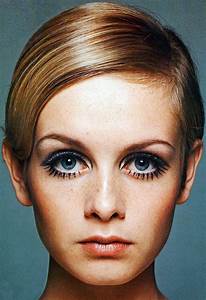 "The Face of 66"-- that's what London's Daily Express called Leslie Hornby (Twiggy) at the age of 16. Skinny, waiflike, hair chopped into a boyish cut, the modish ingenue became the world's first supermodel, and at the same time, my heroic icon.
Twiggy allowed me to become a trendsetter my freshman year of high school. While most of my teen peers were ironing their long hair straight after the Beatles made landfall in America, it became Greaser passe for me to backcomb or rat tease my hair to dizzying heights. While most girls my age developed curves and began to veer into the fast lane, I was rake thin and bookish. Kids in my homeroom affectionately called me "Skinny Bones" or "The Brain."
Twiggy's debut on the model runway put everything in perspective for me. Suddenly, I became the cutest kid in ninth grade sporting my new chic Vidal Sassoon haircut with a peekaboo wave, and showing off my fawn legs in fishnet stockings as I sashayed down the classroom aisles in miniskirts.
Today, Twiggy Lawson still offers us Sixties Chicks inspiration with her ethereal beauty, chic manner of dress, and super achievements through acting and singing. Twiggy herself is quoted as saying, "The Sixties were a time when ordinary people could do extraordinary things."
Click the book images to order your copy of the books.
Signed copies of the Paperback, 40 % off suggested retail, may be acquired at the Authors Den Signed Bookstore via Eva's web page: http://www.authorsden.com/evapasco